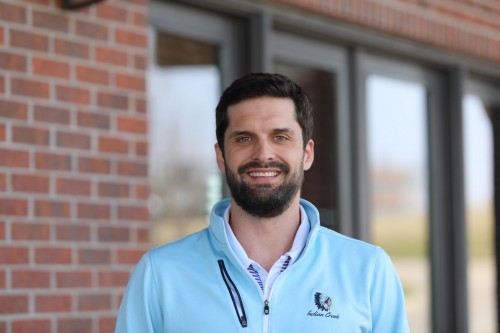 With greens averaging 6,300 square feet, Indian Creek's 27 holes are challenging, beautiful, and impeccably maintained. Our tees, fairways, and roughs are ryegrass/bluegrass mix and our greens are T1 bentgrass. We have 65 bunkers, 37 acres of fairway and our tees average 1,800 square feet.
Head Superintendent
Jim Nedrow has been Head Superintendent at Indian Creek Golf Course since June of 2008 after working as an assistant since 2006. His passion for the golf industry grew from working on the grounds crew at Norfolk Country Club from 2000-01. In 2004, he received his bachelors degree in Agricultural Sciences from the University of Nebraska-Lincoln. While in school, Jim spent four years working at the Country Club of Lincoln. Following graduation, he spent one year as the second assistant at Happy Hollow Country Club in Omaha before joining the crew at Indian Creek. Jim sits on the Board of Directors for the Nebraska Turfgrass Association and is a member of both the Golf Course Superintendents Association of America and the Nebraska Golf Course Superintendents Association. Jim is assisted at work by his dog "Ollie". He enjoys spending time outdoors with his dog, wife Katie, and daughters Sophie & Ruby James, and his son Everett.
For a behind the scenes glance at the maintenance of the Indian Creek Golf Course please visit my blog.